Nurture 8 Core English Abilities

Recognize the basic concepts of the arrangement of English letters and the organization of words and short sentences.

Recognize the sound of each phoneme, the most basic unit of a word.

Grasp the pronunciation of phonemes and consonant clusters and build the relationship between 'form' (spelling) and 'sound' (pronunciation) of a word.

Spell and read aloud words with phonics and begin writing alphabets and common words.

Read aloud simple phonetically-controlled stories with phonics and get familiar with the common words of Grade 1-2.

Read long sentences and understand their meaning as well as the logical relationship between sentences.

Read Chapter Books at a faster speed and perform Silent Reading.

This module covers a wide range of topics, from basic short sentences to professional article writing, which the highest level reaches the standard of Grade 12.
Super Phonics Curriculum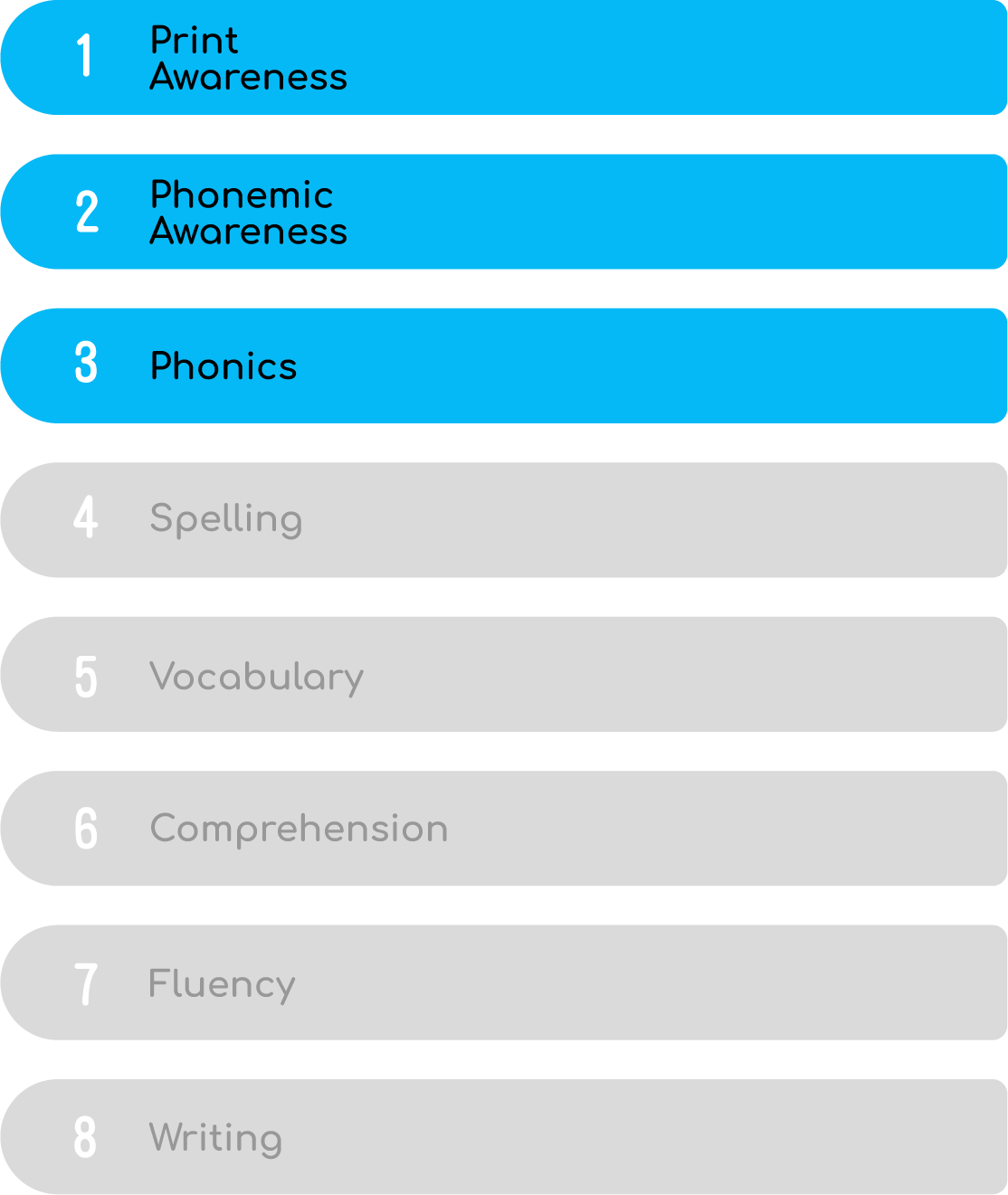 PHASE ONE
SUPER PHONICS
CURRICULUM
54 CLASS HOURS, 2 CLASSES PER WEEK, 27 WEEKS IN TOTAL
Three-steps Learning Ladder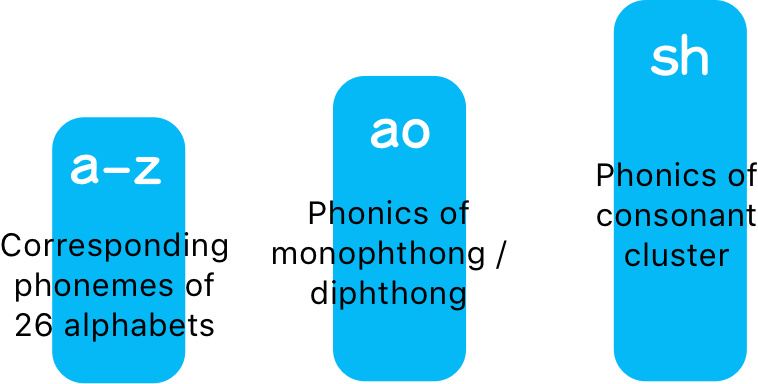 Integrate pronunciation of letters, new vocabularies, and short sentences into classes.
Stimulate children's learning interest with gamified homework.
Ensure the learning outcome by three progressive revisions per stage.
Design Philosophy of Super Phonics Curriculum

Lay a solid foundation for children's listening, speaking, reading, and writing skills by the natural phonics curriculum designed in accordance with the curriculum system of American schools.

Immerse the sequential teaching concepts of "phoneme/consonant cluster- word- short sentence" to help children building excellent print and phonemic awareness.

Increase children's lexicon and nurture their reading habit by adding a short story composed of common words during each lesson.

Begin spelling words, reading short sentences, and describing pictures in English quickly under the instruction from our professional foreign teachers.
Pedagogical Approach of Super Phonics Curriculum
Interaction

Encourage children to speak new words with phonics through mini-games and quick answer race.
Integration

Integrate phonemic pronunciation, new vocabulary, and interesting stories into classes so that children can apply what they learn instantly.
Gamification

Stimulate their learning interest with the gamified homework.
Leveled Reading Curriculum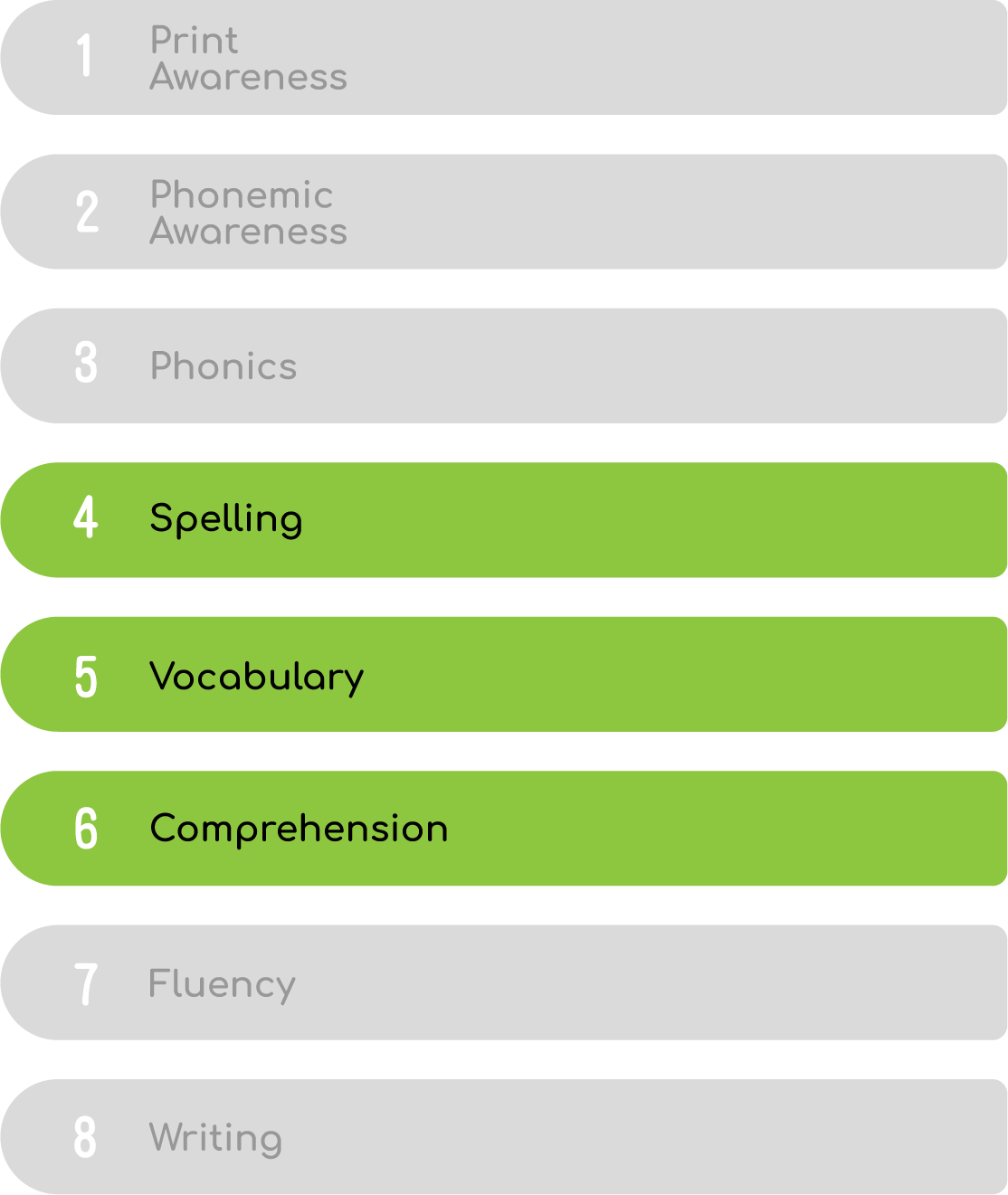 PHASE TWO
LEVELED READING
CURRICULUM
SIX STAGES, 324 CLASS HOURS,
2 CLASSES PER WEEK, 162 WEEKS IN TOTAL
6 stages of progressive learning,
27 levels of reading training
Guide children to read through 54 books in each stage of
54 lessons.
Equip with natural phonics, vocabulary, grammar and
writing exercises which benchmark against Common Core
State Standard (CCSS) across the whole curriculum.
Access 'Raz Kids' account to facilitate the pre-study and
after-school exercise and to nurture reading habit
with more than 400 carefully selected graded readings for free.
Leveling Chart of Leveled Reading Curriculum

Design Philosophy of Leveled Reading Curriculum

Cultivate children's independent ability in English reading. They will not only 'read' but they will also 'comprehend'.

Guide children to reach the standard of American primary school graduating students step-by-step with the reading curriculum designed in accordance with the authoritative Fountas & Pinnell's Guided Reading Level.

Expand children's knowledge and imagination in reading through diverse weekly featured topics such as scientific knowledge, nature, and world cultures.

Enhance comprehensive English competence by organically merging phonics, vocabulary, grammar, writing and reading and get rid of examinations without pressure.

Nurture logical analysis as well as creative thinking by extensively discussing the contents of books with our professional foreign teachers under the principle of interactive pedagogical approach.
Pedagogical Approaches of Stratified Reading Curriculum
Progressive Reading Mindset

Develop a reading flow of 'Graphics-Texts-Meaning-Author Intent'.
Directed Reading Thinking Activity (DRTA)

Direct children to think and express independently by stressing the importance of interaction and supplementing the learning with teachers' explanation.
Theme-based Teaching

Practice reading, vocabulary and writing skills with a weekly theme to balance both the breadth and the depth of reading which enables children to consolidate the established knowledge and to stimulate the reading interest simultaneously.
Guided Writing Curriculum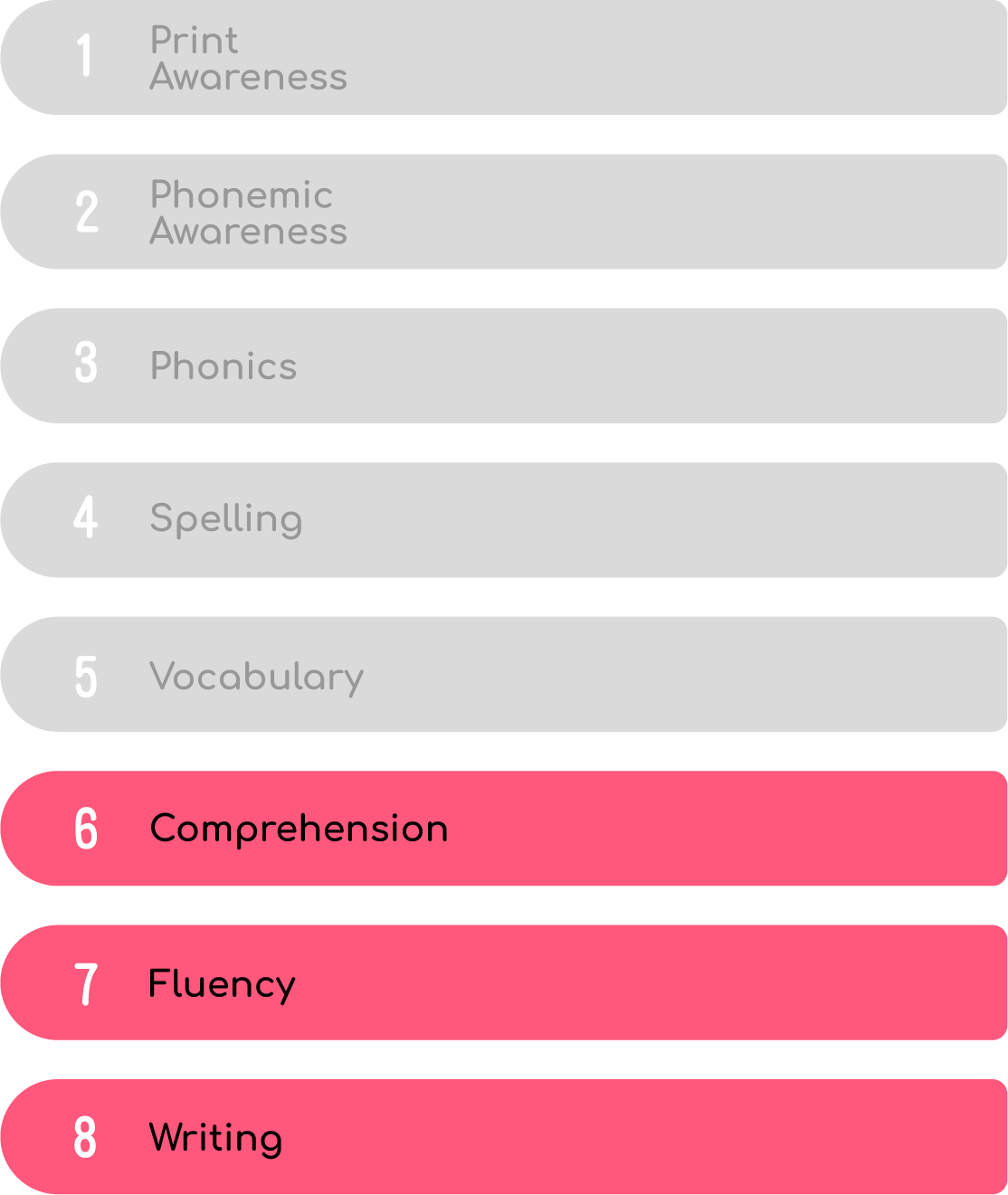 PHASE THREE
GUIDED WRITING
CURRICULUM
UNDER DEVELOPMENT
FROM OUR PROFESSIONAL TEAM IN SEATTLE.